Raveena Tandan brutally slammed Priyanka Chaturvedi of Congress and Priyanka blocked Raveena at the end
This is getting serious like holy serious. The serious of another level.
Last year, when Raveena Tandan went vocal against the intolerance comment made by Aamir Khan a lot of people from Congress and other opposition parties termed her a Bhakt or having aspirations to join BJP.
A huge number of tweets were made about her. A huge number of people tagged her and wrote filth about her. While these congress people were enjoying all the filth.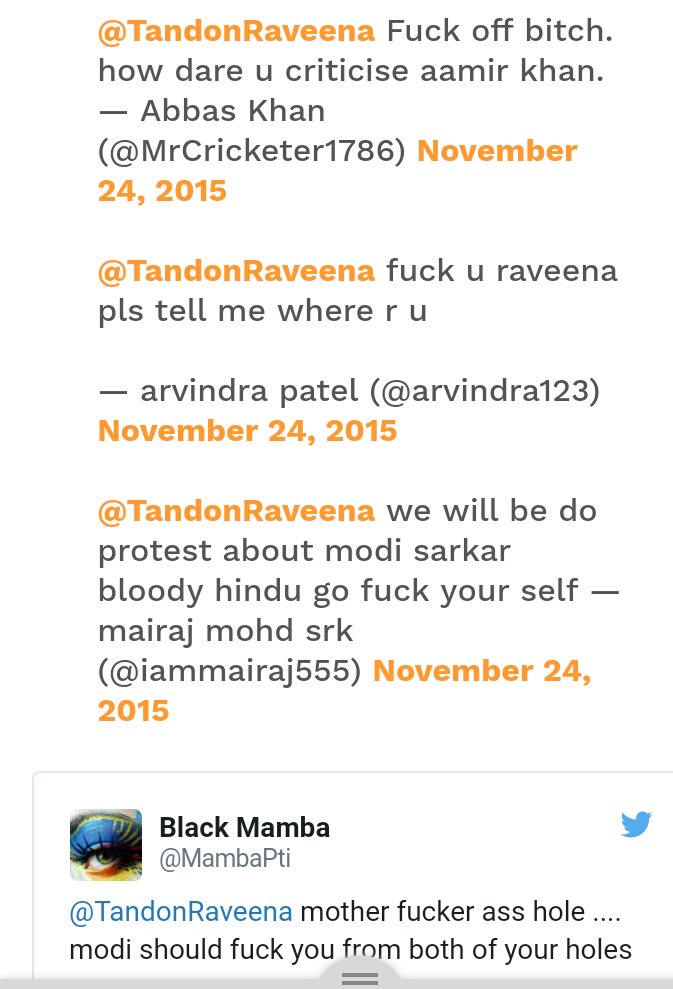 All the prominent reporters who are against BJP and Modi started blabbering about Raveena.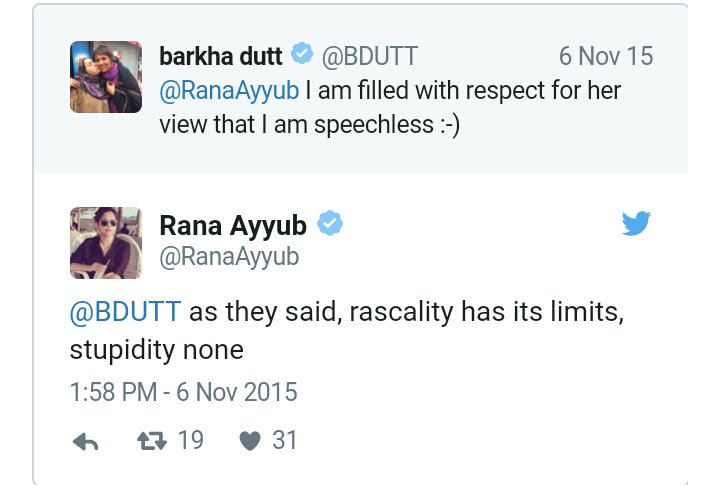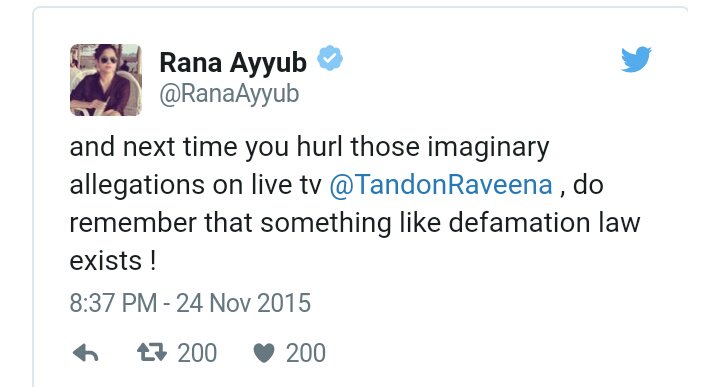 But amidst them all one who stood out was Priyanka Chaturvedi of Congress. None of these well  known Journos used any filthy language , though they opposed Raveena, but Priyanka Chaturvedi blabbered filthy and used words like 'Bull Shit' (BS) about Raveena in a Tweet. Priyanka Chaturvedi is a spokesperson of Congress and these sort of things don't suit a public figure.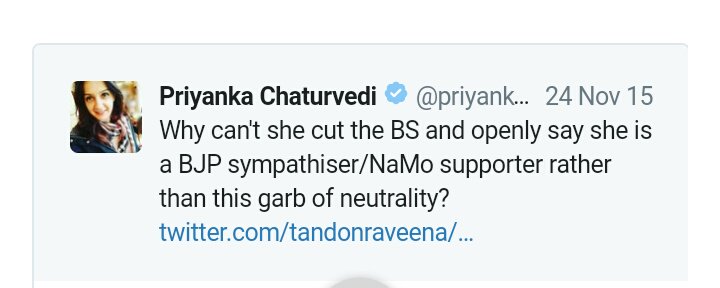 So, it was the thing of the Past, which ended a year ago in November-December 2015. After a year in the month of December it all started all over again:  When a person Jatinder Singh tagged Raveena and put an allegation on BJP and its followers that they write filth about the ones who criticize BJP. To this allegation Raveena said such type of people are in every party.
Then a man Balram Morel came up with some of the horrendous tweets written to Raveena during the Intolerance debate.
The screen shots taken by Balram Morel were retweeted by Raveena Tandan.
Then Raveena took her stance on Priyanka Chaturvedi of Congress on the usage of words like "BS" (Bull Shit)
But Priyanka Chaturvedi did not realize her mistake and she started bashing Raveena all over again on twitter. She said that she is ready to start the war allover again.
When Priyanka Chaturvedi tweeted the above comment in its reply Raveena wrote:
And to the blabber of Priyanka that whether Raveena wants to start something allover again? Raveena wrote:
To the above tweets of Raveena, Priyanka Chaturvedi replied that "Yes you speed dialed some leaders of my party and now you are saying you are better than me."
To this tweet of Priyanka Raveena Tweeted that she didn't even know her, She got to know Priyanka only when she trolled her. Raveena only spoke for country while Priyanka POKED her for speaking for the country.
To this tweet of Raveena, Priyanka wrote that she speaks to the people in the language they understand.
And when Priyanka tweeted this last tweet she made sure that she blocks Raveena.
And when Priyanka blocked Raveena, Raveena wrote another tweet that Priyanka did not see her in true Punjabi mode.
On the other hand Priyanka Chaturvedi is trying to win the battle by Blocking Raveena.
Now when Raveena is blocked can't see what Priyanka in Tweeting, Priyanka is tweeting all the filth about her all over again.
Carry on Priyanka now you will not get any fitted answer.
When the Lion is in cage and an ass is outside, even the ass can curse it, No? (Just Saying)