Arvind Kejriwal And Rajdeep Sardesai Exposing Themselves Over Chit Fund arrest of TMC leader
It seems like Arvind Kejriwal doesn't read the news and just read the tweets. Whosoever writes anything against Modi, Kejriwal believes on that.  While Rajdeep's bread and Butter is to write against Modi.
Yesterday, Mamata's TMC's leader got arrested in a chit fund case. On that Mamata was furious and asked her goons to attack BJP Office in Kolkata. After vandelizing the BJP's office they even Bombed the house of BJP leader.
The goons of Mamata are ransacking the whole city justr because a scamster was caught by the CBI. Are we living in a democracy?
While on the other hand Rajdeep Sardesai is blaming the Modi government for the arrest. What do you expect Mr. Sardesai a looter should stay free?
When TMC was backing NDA on GST, didn't hear a word on chit fund cases; now, TMC takes on centre on demonetisation, 2 MPs arrested!!

— Rajdeep Sardesai (@sardesairajdeep) January 3, 2017
According to Mr. Sardesai the TMC leader got arrested because Mamata was against Demonetization.
Then same was the case of Mr. Kejriwal. Arvind Tweeted that this is nothing but a vendetta politics of Modi. If someone would speak against Demonetization he will be punished.
This is vendetta politics of Modi ji. His msg is – Agar kisi ne notbandi ke khilaaf bola to chhodenge nahi. Really deplorable. https://t.co/yPhkzZXm1w

— Arvind Kejriwal (@ArvindKejriwal) January 4, 2017
Kejriwal tweeted about the arrest but not a single word on the destruction of BJP office in Kolkata not a single word on Bombing the BJP leader's house, never heard a word from him on Dhulagarh riots of West Bengal where Hindus were tortured, never heard a word on Malada riots.
Here are some of the cuttings that we have and that would clear that it was not Modi who sent the CBI to probe in Chit Fund case it was Supreme Court which ordered CBI to probe and those orders were given in 2013. And a lot of other leaders were arrested by the CBI and other Authorities since then. This is not the first time anyone from the TMC got arrested in Chit Fund case.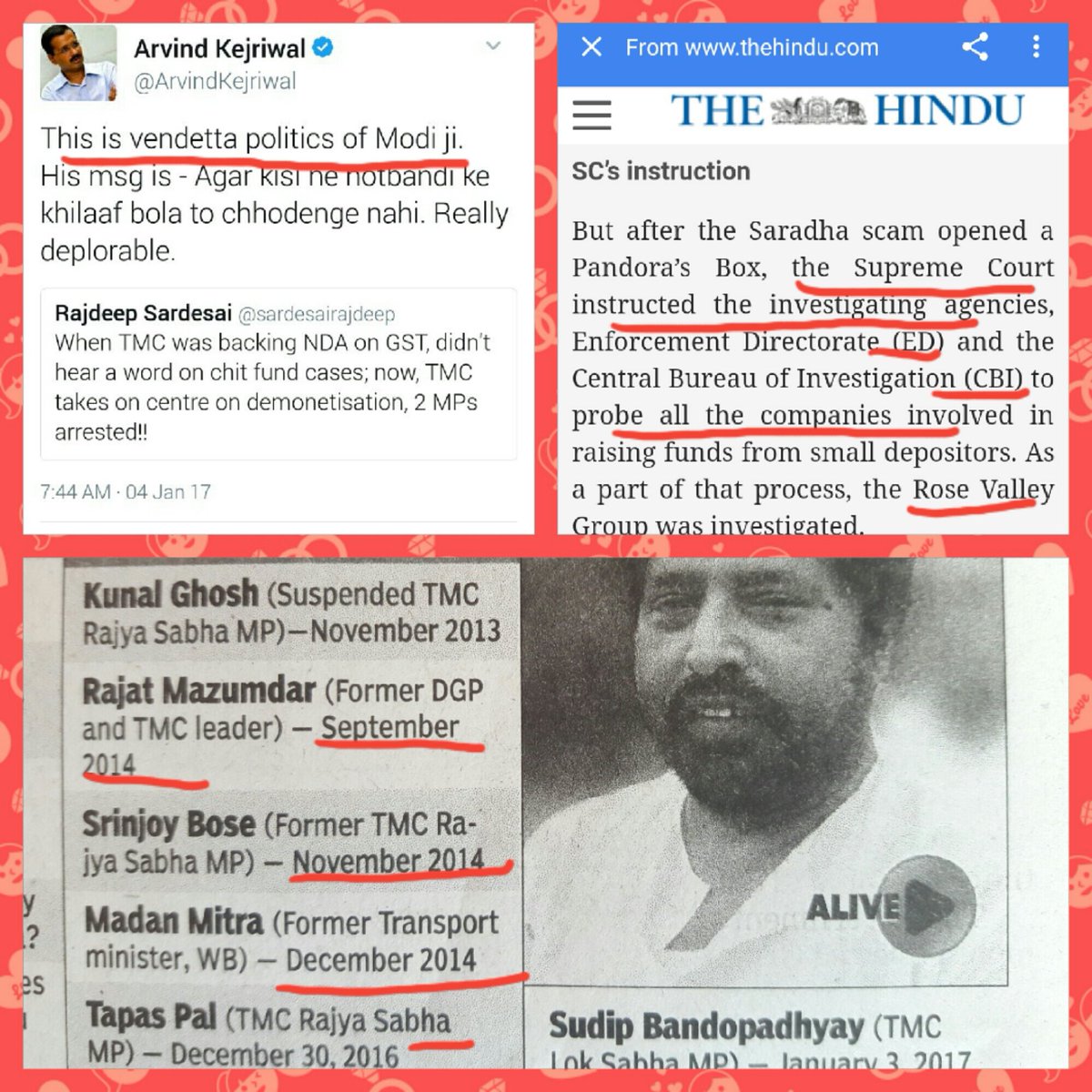 Source – thelotpot